The Paroli Roulette betting strategy is another progression betting system that is favoured by many players over other progression betting strategies such as the Martingale betting strategy or the slightly less risky D'Alembert betting system. The primary difference, however, is that the Paroli Strategy is based on a positive progression betting system whilst the other two are both characterized as negative progression betting systems. What this essentially means is that both the Martingale and the D'Alembert strategies propose raising bets on losing hands hoping to recoup losses when a win hits, while the Paroli system proposes raising bets on winning hands only.
Most important Paroli strategy facts
Progression betting system similar to Martingale and D'Alembert
Uses positive progression betting as opposed to negative betting progression
Designed to be used with all even money/outside Roulette bets
Can be used with inside bets
Easy to learn and to implement (great for novice players)
Safer than negative progression betting systems
Our Rating
Good 8/10
---
Additional Strategies
---
Paroli Strategy
Basics
Anyone who has ever tried the Martingale betting strategy for an extended period of time is most certainly aware of the inherent faults and dangers that are associated with that system. Negative progression betting proposes increasing bets after losing bets and Martingale, in particular, proposes doubling your wager on or after every losing bet! If the losing streak is long enough, your wager will be so big you will not be able to maintain it and will lose it all.
Paroli's Strategy for Roulette betting is a bit different. This system relies on what is known as a positive progression betting system and is the opposite way around. Instead of increasing your bet on or after every losing hand, you increase your bet on or after every winning hand. The concept of positive progression betting is preferred by many Roulette players who feel that the system utilizes the house's money to a greater extent. Let's take a look at an example of how the Paroli strategy for Roulette betting could work.

The Paroli system for Roulette betting
Explained by example
The Paroli strategy for betting in Roulette is very easy to understand and to implement which is a big reason for its seemingly undying popularity.
A simple example would be as follows:
Place a single unit bet (a single chip) on an outside bet. This can be red/black, odds/evens or 1-18 or 19-36. For this example, we'll place our 1 unit bet on the colour red. Let's say that the bet wins and you get an additional chip since you are making a 1:1 bet. Instead of taking your winnings as you normally would, you leave both chips on the betting area (you do not have to stick to red). Let's say your luck is in and you win again. You then leave all 4 chips in the betting area (2 for 2). If you win again you will be on 8 chips and if you win again this will climb to 16 so it is easy to see why this betting system is so attractive.
The other advantage to the Paroli strategy is that, in the event that you lose, all you are actually losing is your original stake of one unit or one chip. All that you have to do next is bet a single unit again and if that loses you bet a single unit again until you win a bet and begin the process over.
Watch this short video as it helps to explain the theory behind the Paroli strategy at an actual Roulette table: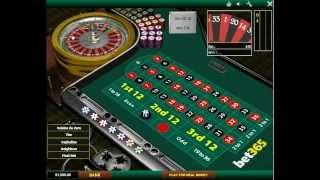 Summary
Start with a single unit of 1 chip
Choose an outside even-money bet of red/black. Odds/evens or 1-18/19-36
Place a single unit on the space you want to bet on
If you win leave your chip along with the chip you've won in the betting area
Repeat the cycle, leaving the chips you've won in the betting area
If you lose a bet begin again with a single chip
---
Other strategies you might want to check out:
---
Advantages and Disadvantages of the Paroli strategy
We can clearly see that there are more advantages to using the Paroli positive progression system than other betting systems. The system is very easy to implement and there are no complicated formulas to learn or charts to follow. You don't even really need to understand the game of Roulette fully (inside bets and their complicated names) to be able to use this system in a real money game. Another advantage is that if you lose, you only really lose your original stake of 1 unit/1 chip.
In terms of disadvantages, the theory that you are actually playing with the casino's money is not quite accurate, especially in the early stages of playing. The reality is that you bought those chips when you made your deposit with the casino and even the casino's bonus isn't really applicable to this scenario. Incidentally, if you are interested in an online casino bonus comparison, be sure to check out our in-depth reviews on our recommended casino bonuses.
Pros
Easy to learn and quick to implement
The ideal system for novice players
Positive progression means less risk to your bankroll
Cons
Works best on outside bets which payout very low can take longer to show a profit
Losing streaks can be long which could eat away at your bankroll/profits
Playing with 'house money is not entirely accurate

Chances and risks
Involved with the Paroli system for Roulette betting
As we have seen with the examination of advantages and disadvantages of the Paroli strategy there are definitely ticks in both columns. We can analyse this particular positive progression betting system further by taking a look at what additional risks may be present as well as who the system is best suited for.
Who is suitable for the strategy?
The Paroli strategy for Roulette betting is designed to be used by any player of any level of experience who is interested in playing outside Roulette bets. However, we believe that the system is best suited to novice players who may yet be unfamiliar with all the ins and outs of the game of Roulette and want to get going anyway. The system is very easy to learn and to implement in a real money game. Paroli is also suitable for casual players who enjoy an easy game on the outside of the table.
79% Beginner
72% Advanced
70% Pro
How high is the risk?
When compared to the Martingale betting system, and to a lesser extent, the D'Alembert strategy, the Paroli strategy is relatively low risk. This is large because of its positive progression betting system which only increases the wager on wins and not on losses. Having said that, the system is still fairly risky, particularly on longer betting cycles where losing bets dominate. The best strategy is to decide beforehand how many cycles you want to play before cashing out and then sticking to it.
Are winnings guaranteed?
Keep in mind, there is no roulette strategy that can guarantee you will walk away from the table a winner, and the Paroli system is no different in that regard. It will help you limit your losses and give you a shot at a decent win when you pick a few lucky streaks, but the casino will still have an advantage and this strategy will not turn you into a certain winner.
That said, this strategy is a great pick for people who are unwilling to risk too much but still want to test their luck. If you are looking for a place to test this new strategy, do head over to our Online Casino Comparison page to find the best places for online roulette players.
Conclusion

Is the Paroli strategy worth it?
When compared to other simple even money betting strategies the Paroli strategy is definitely a better option. The system uses a positive progression betting structure as opposed to a negative progression betting system and is also incrementally a lower risk. If you lose, theoretically anyway, you only lose your initial stake of one unit.
Naturally, the Paroli strategy is not without its flaws and like any betting system that essentially relies on trends, if there is not enough in the bankroll to sustain long losing runs, you may be in trouble. The even-money bet may be a fairly low-risk bet but it also will not make you rich overnight and serious Roulette players will not stick to the strategy for long. Check out our list of tips and tricks to help you get the most out of your Paroli strategy for Roulette betting.
Highlights
In the field of progression based systems, this strategy is better than others
You increase your bet after you won
Ideally for beginners
Tips/Tricks
A good tip is to start with the smallest possible betting unit and move up once confident with the system or if you have built up a solid bankroll
Decide before you start playing how many cycles you want to commit to and stick to it. This will help minimize losses and also help to preserve your bankroll while you build it up
A good trick is to try exploring different outside betting options to see which one works during a cycle, sometimes the pattern of the number will best suit a different betting option
Check out our online casino comparison page to find a suitable casino for playing online roulette
Another great trick is to find online roulette practice games so that you can perfect your roulette strategy before playing for real money